LAUNCHING APRIL 7th, 2023!
You're a new hire at Redify, a startup that loves changing the world! It's up to you to turn the company around and climb to the executive level by making very important decisions.
Work with a variety of unique co-workers and respond to their messages to navigate corporate politics in this unique twist on a visual novel.
Meaningful choices: The choices impact the story, how people perceive you, and whether you get promoted or not. Unwind and have a little fun with two hours of hilarious decisions and dialogue in this emoji-driven branching narrative.


Unique characters: Who will you side with? We know Karen can be a downer, but sometimes we get tired of Joey's toxic positivity.


Get promoted: Side with colleagues and make decisions for the company through six chapters of a life-fulfilling tech job.


Replay: Unlock new characters, emojis, and channels.
Chief Emoji Officer is Bodeville's first game. After living and working in Silicon Valley for many years, founders Alexia Mandeville and Bo Boghosian decided to write a narrative game that captures the essence of the 2020's tech landscape.
In hilarious fashion, CEO blurs the line between what is comedy and what is real.
Release Date: 4/7/2023
Regular Price: $2.99 USD
Inquiries: social@bodeville.com
Twitter: @bodevillegames
Website: bodeville.com
Alexia Mandeville (Art, Game Design, Writing)
Bo Boghosian (Engineering, Music, Writing)
Download the trailer and b-roll from Google Drive
or watch trailer on
Youtube
Click any image for full-resolution
More images, screenshots, and art available on Google Drive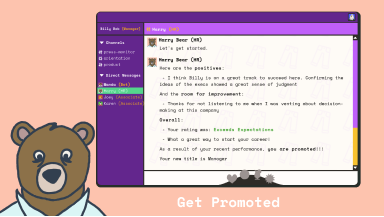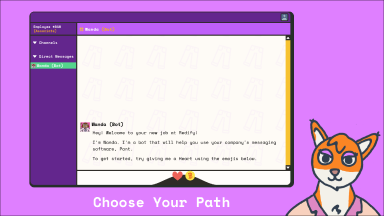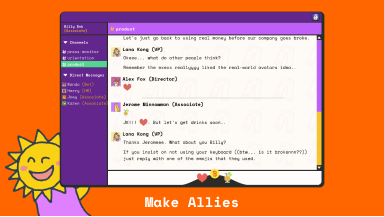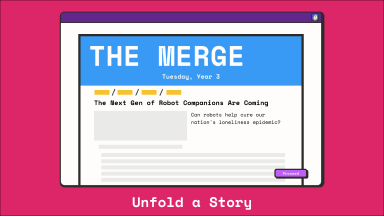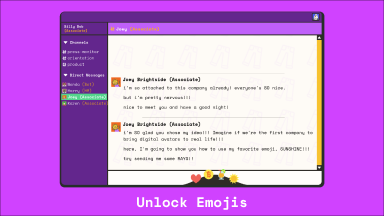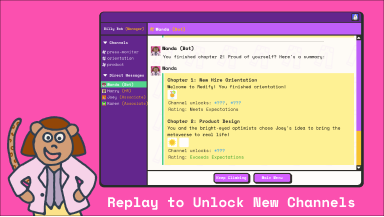 Click any image for full-resolution